---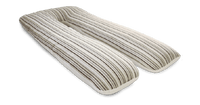 Wholebody
Own this product? Tell everyone what you think!
Essentia
We get passionate feedback about this one. Our U-Shaped Body Pillow feels amazing. Super supportive for your neck and back, it fits comfortably between the knees when lying on your side. 
When a comforting snuggle is what you need, our luxurious body pillow will be there for you.