---
Brand Directory - Eco Lips
To find out more about a brand and what they do, please visit their website.
Green

 

= 100% vegan.
Orange

 

= Appears to be vegan, but don't mention that they're vegan. Be sure to double check ingredients/materials because while we did not come across anything non-vegan, it's possible that new arrivals may not be vegan-friendly.
Black
 

= Non-vegan, but has some vegan items.



All our products are made with wind power offsets, and with fair trade, gluten-free and cruelty-free ingredients. We use Fair Trade Certified™ cocoa butter and coconut oil to help support a better life for the farmers. We use recyclable lip balm containers made with 40 percent recycled content, biodegradable/compostable FSC Certified paper tubes, and recycled aluminum carabiner clips for our top selling Eco Clips.

B Corp certified.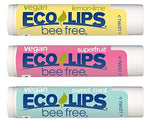 Eco Lips