---
Brand Directory - Lush
To find out more about a brand and what they do, please visit their website.
Green

 

= 100% vegan.
Orange

 

= Appears to be vegan, but don't mention that they're vegan. Be sure to double check ingredients/materials because while we did not come across anything non-vegan, it's possible that new arrivals may not be vegan-friendly.
Black
 

= Non-vegan, but has some vegan items.



Charitable giving is at the heart of our business, and we believe it's our responsibility to advocate for the environment, animals and people in need. We're passionate about giving back to organizations locally and around the world, and we do so through our Charity Pot program, Sustainable Lush Fund, FunD and our people.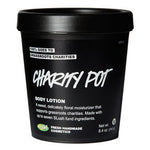 Lush