---
Brand Directory - Jade Leaf Matcha
To find out more about a brand and what they do, please visit their website.
Green

 

= 100% vegan.
Orange

 

= Appears to be vegan, but don't mention that they're vegan. Be sure to double check ingredients/materials because while we did not come across anything non-vegan, it's possible that new arrivals may not be vegan-friendly.
Black
 

= Non-vegan, but has some vegan items.



We believe that organic matcha green tea is a great addition to a healthy lifestyle. What often makes this tough is that authentic Japanese matcha (especially the organic variety) tends to be very expensive. So we set out to partner directly with the best organic farms in Japan, and the result has become our brand, Jade Leaf Matcha. We promise to offer the highest quality organic Japanese matcha at a fair price, so that you too can add it to your own healthy lifestyle.

Even though our partner farms carry organic certification, we double check and test the integrity of each batch to ensure it is free from harmful microbes and pesticides.

The safety of our products is our absolute #1 concern, so we thoroughly test for contaminants including heavy metals and radiation, ensuring none of the bad stuff gets through.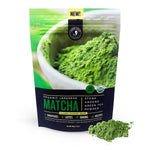 Jade Leaf Matcha