---
Brand Directory - TAVVA
To find out more about a brand and what they do, please visit their website.
Green

 

= 100% vegan.
Orange

 

= Appears to be vegan, but don't mention that they're vegan. Be sure to double check ingredients/materials because while we did not come across anything non-vegan, it's possible that new arrivals may not be vegan-friendly.
Black
 

= Non-vegan, but has some vegan items.



Unlike many lunch stainless steel containers available on the market, Tavva containers are 100% leak-proof and plastic free. Non-toxic silicone lid and lightweight 18/8 food grade stainless steel containers are free of chemicals like BPA, BPS and phthalates commonly found in plastic storage containers. The steel and silicone container is lighter than glass food storage containers, unbreakable and is a superior alternative to plastic lunch bento boxes.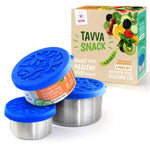 TAVVA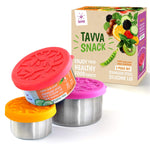 TAVVA