---
Brand Directory - Sydney Brown
To find out more about a brand and what they do, please visit their website.
Green

 

= 100% vegan.
Orange

 

= Appears to be vegan, but don't mention that they're vegan. Be sure to double check ingredients/materials because while we did not come across anything non-vegan, it's possible that new arrivals may not be vegan-friendly.
Black
 

= Non-vegan, but has some vegan items.



Minimum use of hazardous substances and non-renewable resources, low energy and water consuming materials and processes, and minimum waste production. Each component of the shoe is carefully developed to fit with the brand's ethos, utilizing recycled and sustainable materials. Every season we strive to improve and develop these further.
Sydney Brown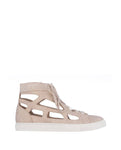 Sydney Brown