---
Brand Directory - Me to We
To find out more about a brand and what they do, please visit their website.
Green

 

= 100% vegan.
Orange

 

= Appears to be vegan, but don't mention that they're vegan. Be sure to double check ingredients/materials because while we did not come across anything non-vegan, it's possible that new arrivals may not be vegan-friendly.
Black
 

= Non-vegan, but has some vegan items.



When you give a ME to WE gift, you're part of something so much bigger than a simple gesture. You're part of a sustainable cycle of good. You could give a Rafiki Bracelet that helps fund a clean water system in Kenya, or chocolate that helps build a school in Ecuador. And through our Track Your Impact promise, you get to see where and how you changed lives, with stories about the people and places behind every purchase.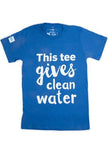 Me to We