---
Brand Directory - BIJA Chocolates
To find out more about a brand and what they do, please visit their website.
Green

 

= 100% vegan.
Orange

 

= Appears to be vegan, but don't mention that they're vegan. Be sure to double check ingredients/materials because while we did not come across anything non-vegan, it's possible that new arrivals may not be vegan-friendly.
Black
 

= Non-vegan, but has some vegan items.



BIJA is a social enterprise that believes that if we invest in women they will reinvest in their families and communities. By working directly with women-owned co-ops, we create real relationships with the women and pay them directly. This ensures greater economic opportunities to help their families and communities.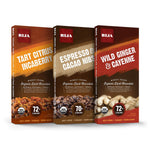 BIJA Chocolates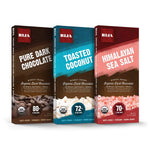 BIJA Chocolates