---
Brand Directory - Traditional Medicinals
To find out more about a brand and what they do, please visit their website.
Green

 

= 100% vegan.
Orange

 

= Appears to be vegan, but don't mention that they're vegan. Be sure to double check ingredients/materials because while we did not come across anything non-vegan, it's possible that new arrivals may not be vegan-friendly.
Black
 

= Non-vegan, but has some vegan items.



Traditional Medicinals is an independent company that embraces sustainability, ingredient purity, and social and environmental activism. A Certified B Corporation and California Certified Green Business, we're the leading seller of wellness tea in the U.S. and the pioneer of the wellness tea category in the U.S. and Canada.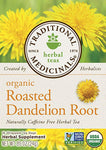 Traditional Medicinals