---
Brand Directory - Just Date Syrup
To find out more about a brand and what they do, please visit their website.
Green

 

= 100% vegan.
Orange

 

= Appears to be vegan, but don't mention that they're vegan. Be sure to double check ingredients/materials because while we did not come across anything non-vegan, it's possible that new arrivals may not be vegan-friendly.
Black
 

= Non-vegan, but has some vegan items.



We are a health food and education company, pioneering healthier alternatives to refined sugar derived from organic, plant-based sources, while supporting and educating the community in making better health decisions. We offer our health-conscious consumers sugar replacements that prioritize exceptional nutrition and exceptional flavor.

We put forward a comprehensive approach to health and wellness not only through our products, but also by advancing medical research and contributing to health education in our community. We donate 2% of our profits to diabetes education and research to our former medical colleagues.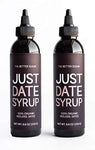 Just Date Syrup