---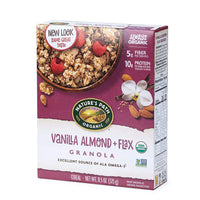 Vanilla Almond and Flax Granola
Own this product? Tell everyone what you think!
Nature's Path
INCLUDES: 1 box of Nature's Path Vanilla Almond + Flax Granola.

FLAVORFUL CRUNCH: This on-the-go snack or hearty breakfast meal delivers a taste you won't be able to resist. With each bite, unveil the delicious taste of protein-packed almonds, Omega 3-rich flax seeds, whole grain rolled oats and just the right amount of vanilla to satisfy your sweet tooth.

ALWAYS ORGANIC: Certified USDA organic, this delicious granola represents the true values of Nature's Path. This crunchy granola is Non-GMO Project Verified and includes wholefood simple ingredients embracing sustainable processes.

HEALTHY, HEARTY AND DELICIOUS: Make snacking the best time of the day with Nature's Path Vanilla Almond + Flax granola. Each serving features 10g of protein and 5g of fiber so you can fill your body with wholesome ingredients that work to keep you energized throughout the day.

FOOD THAT'S ENVIRONMENTALLY FRIENDLY: You choose to cherish the environment, and so do we. Each one of our organic products are not just organic, but always organic. Nature's Path believes in fair practices and high quality.