---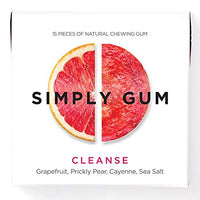 Cleanse Chewing Gum, 15 Pieces, Pack of 6
Own this product? Tell everyone what you think!
Simply Gum
Contains 6 packs with 15 pieces of gum each (90 pieces total)

We only use a few simple ingredients, with no aspartame, no synthetics, and no artificial flavors. Made in the USA.

Non-GMO Certified, Natural, Vegan, Kosher, Dairy Free, Nut Free, and Soy Free.

Biodegradable. Did you know regular gum is made of a plastic base? We use chicle (tree sap) as our base, instead of plastic

Our Guarantee: We will provide a 100% refund if you are not satisfied with our product!