---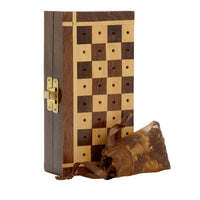 Shesham Travel Chess Set
Own this product? Tell everyone what you think!
Noah's Ark Int'l Exports
Ideal for the jet-setting chess-player, this unique, high-quality chess set is handcrafted from shesham wood. Specifically designed for games on the go, pegged pieces stay in place on the board with holes in each square. Never lose a game piece again! From king to pawn, each piece is easily stored inside the game board, which folds on hinges to create a portable box.