---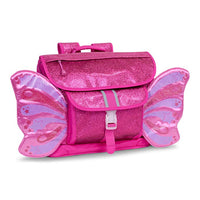 Sparkalicious Ruby Raspberry Glitter Butterflyer, Medium
Own this product? Tell everyone what you think!
Bixbee
Sparkalicious Sparkle from the inside out
What if you had wings to take you to school? Now it's possible with the Flyer collection! The Sparkalicious Butterflyers dazzle and shine, letting them spread their wings and fly! Each bag is as roomy as it is fun with space for everything they need for school or travel. Each with a sparkly star charm!