---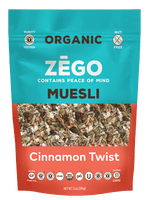 Muesli: Cinnamon Twist
Own this product? Tell everyone what you think!
ZEGO
Cinnamon Twist Muesli is a delicious blend of spicily organic cinnamon, dried organic apple bits from Oregon and Washington orchards, raw pumpkin and sunflower seeds with our Exceptional Oats. They are delightfully crunchy and sweet without any added sugar.
Our organic muesli is raw and made from our exceptional oats, which is how they contain 8g of protein and 5g of fiber per serving. They will keep you feeling satisfied all morning. Every batch is tested for allergen and gluten cross contact and every harvest is tested for chemicals and glyphosate.
Because our oats are hulless, they have an enzyme called lipase that can develop a bitter note. Not all oats are high in lipase. If your oats have this bitter note, neutralize it with hot water–either pouring hot water on them or cooking them in water. Baking them in batters that contains liquid also works.