---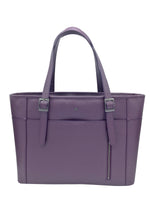 Miley
Own this product? Tell everyone what you think!
GUNAS
Let's get to work with the ultimate work bag, Miley! Named after the veganist of vegan celebrities, Miley Cyrus, the Miley is the only work bag you'll every need. The outspoken celebrity Miley Cyrus has voiced her passion for veganism to her 73.5m Instagram followers. "You do not need to torture or kill animals to sell fabulous products! Love love and more love" says Miley. We couldn't agree more! 
Loaded with features and pockets the Miley bag will help you stay organized. It's sturdy structure can bear the weight of your laptop, other electronics and files with ease. Use it daily for work or travel. The back features an extra slip sleeve to slide the bag conveniently over your carry on bag for convenience and staying hassle-free during travel.