---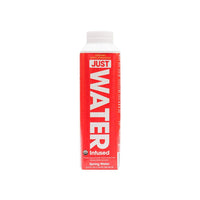 JUST Water Infused - Organic Apple Cinnamon (Pack of 12)
Own this product? Tell everyone what you think!
JUST Water
ZERO SWEETENERS OR ARTIFICIAL FLAVORS: Starting with the same 100% mountain spring water and eco-friendly bottle as JUST Water, JUST Infused is elevated with a dash of organic fruit essence. The flavor is light, refreshing and tastes just as if there were a slice of tangerine in the bottle. JUST Infused is certified organic with no sweeteners, calories, or artificial flavors.


RESPONSIBLY SOURCED: JUST Infused is 100% spring water sourced domestically from Glens Falls, NY, where high-quality drinking water is abundant. We've created a fair business in the city that is providing jobs along with a premium product. All proceeds from our relationship are invested back into the city allowing us to give back every step of the way.


RENEWABLE MATERIALS: The JUST water bottle is made from 82% renewable resources, meaning materials that grow back! The cap and shoulder of our bottle are made from plastic sourced from sugarcane, not fossil fuels. Our bottle is primarily made from paper, sourced from sustainably managed forests. Resources that can be regrown naturally contributing to lower carbon emissions.


BETTER THAN PLASTIC: Our bottle uses paper from sustainably managed forests where new trees replace the ones that are harvested. Using plants for much of the material content in the bottle, means a reduction in carbon emissions by up to 74% compared to an average plastic bottle, which starts out as petroleum. Our bottle is BPA Free and 100% recyclable.



NATURALLY HIGH pH: Our water has a naturally occurring pH of 8.0 (+/- 20%). Anything above 7.0 is considered alkaline.