---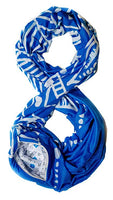 Infinity Scarf w/Secret Hidden Zipper Pocket
Own this product? Tell everyone what you think!
Waypoint Goods
100% of the proceeds from the sales of the SUMMIYA scarf pattern will be donated to MARSHALL DIRECT FUND to continue to support youth education and women's economic empowerment in Pakistan!
SUPERIOR QUALITY // While other travel scarfs are made from flimsy fabric that is sewn poorly, a pocket that is too small and simply aren't made to be a fashion accessory, the Waypoint Goods Travel Scarf is made from a soft yet durable fabric meticulously stitched with a pocket large enough to fit your iPhone+ with room for a passport, keys and some cash. This means travelling just got easier for you to keep your belonging safe, secure and inconspicuous while being fashion forward on the go

EXPERIENCE MORE // No more clunky purses or awkward backpacks to get between you and your travel experience. Our Travel Scarf frees up your hands to be able to peruse fruit in the market, take that once in a lifetime photo, and explore a world class museum. Focus on the art, culture and where to next instead of worrying about pickpockets.

SAFETY FIRST & FASHION FORWARD // Enjoy the freedom of knowing your belongings are safe, secure and in an unexpected location while still feeling your best, expressing your unique sense of style all while looking like a local instead of a tourist. No more pulling sweaty euros out of a money belt, just unzip your hidden scarf pocket and slip out your cash, cards, or keys.

WHO WE ARE // Waypoint Goods is a boutique design studio believing in creating quality products for a modern traveller with a contemporary lifestyle. On the plane, to the show or to coffee, we make products that you can take anywhere and will hold up to your bold, adventurous lifestyle. We are real people who design products we want to use and expect nothing but the best. We don't settle for less and neither should you.

GIFT WORTHY // You know that person who is impossible to buy for? Well, you're in luck! This is it! Give a gift that is as unique and functional for travel as it is for everyday life. From Graduations to Birthdays, Anniversaries to Christmas, a Travel Scarf is the perfect addition to anyone's wardrobe and travel arsenal. Don't worry, you won't let them down. Save the day this Mother's Day and give her something she will love!