---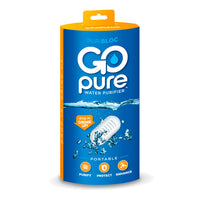 GOpure Pod Water Purifier
Own this product? Tell everyone what you think!
GOpure
Purify tap water, everywhere.
You're going to think the world of this powerful little Pod. Because while it keeps impurities, toxins, and contaminants out of your water and out of your body, it also protects oceans and landfills from plastic pollution. Order our new fully sustainable, package-free glass vial. Want to go even greener? Send back your pod, and we will recycle it for you.