---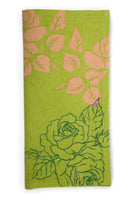 Flower Garden Tea Towel (Spring Green)
Own this product? Tell everyone what you think!
CRC Exports Private Limited
Bring some spring into the kitchen, or wrap up a housewarming or host gift with the vibrant Flower Garden Tea Towel. This cheerful floral print cotton tea towel was created by makers with our artisan partner group CRC Exports in India. CRC helps small, informally organized craft workshops develop into self-sustaining businesses. CRC provides marketing, design and exporting assistance. CRC also insists on environmentally friendly production methods and materials and encourages coordination among producer groups.