---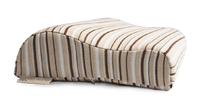 Ergonomic
Own this product? Tell everyone what you think!
Essentia
There's no mistaking the way an ergonomic pillow feels. The classic 'S' curved pillow shape means you either love the pronounced neck support it delivers or could do without. 
Expect a supportive pillow that cradles the neck and sleeps cool. If you're a fan of ergonomic pillows there's a very good chance you'll love ours.