---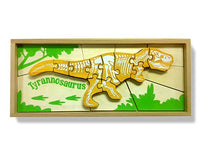 Dinosaur Skeleton Puzzles
Own this product? Tell everyone what you think!
BeginAgain
DINOSAUR PUZZLE FOR KIDS: It is no surprise that kids really dig this dinosaur puzzle! This chunky, double-sided Tyrannosaurus Skeleton Puzzle shows its skeleton on one side, and more friendly features on the other.

PLAY AND DISPLAY: This dinosaur puzzle includes 19 double-sided, wood puzzle pieces that fit in a wooden tray for storage, travel or to display between playtimes. Completed Tyrannosaurus stands up on its own, too!

ECO-FRIENDLY TOYS: At BeginAgain Toys, all of the products are designed with the environment in mind. Wood is sustainably harvested from Rubber Trees to make all of the wooden pieces and playsets, while the sap of the tree is converted into the natural rubber bath toys. Any products that contain plastic have been created using recycled plastics as well as bioplastics made from sugar, wheat and corn. BeginAgain is working towards a greener world one toy at a time!

MAKES A PERFECT GIFT: Whether you've got a little one in your life, or need an excellent birthday or baby shower gift, BeginAgain is here to help! With toys that help promote fine motor skills and puzzles that help improve cognitive functions, BeginAgain has something for every child no matter the age or the occasion!

WELL BALANCED PLAY: Benjamin Barlowe was an early 20th-century inventor from Fort Collins, Colorado. He believed that for children to develop properly, they required a balanced approach and needed to incorporate 5 fundamental types of activity into their play; The Artist, Writer, Inventor, Sportster, and Hero. Today, BeginAgain toys are all modeled after these principles and promote well-balanced development of the whole child!