---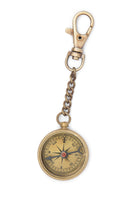 Compass Key Chain
Own this product? Tell everyone what you think!
Noah's Ark Int'l Exports
This compass key chain is a thoughtful gift of thanks to unwavering friend, or encouragement to stay the course. A compass workshop in India called Vertex evolved from a group of craftsmen who originally made surveying equipment for some of the earliest canals in the region. Makers have adapted their designs to meet the needs of a changing market, but have held true to their craftsmanship skills.